Little Women – Spring Play 2021
Friday, May 21, 7 PM & Saturday, May 22, 2 PM
Directed by Dr. David Warren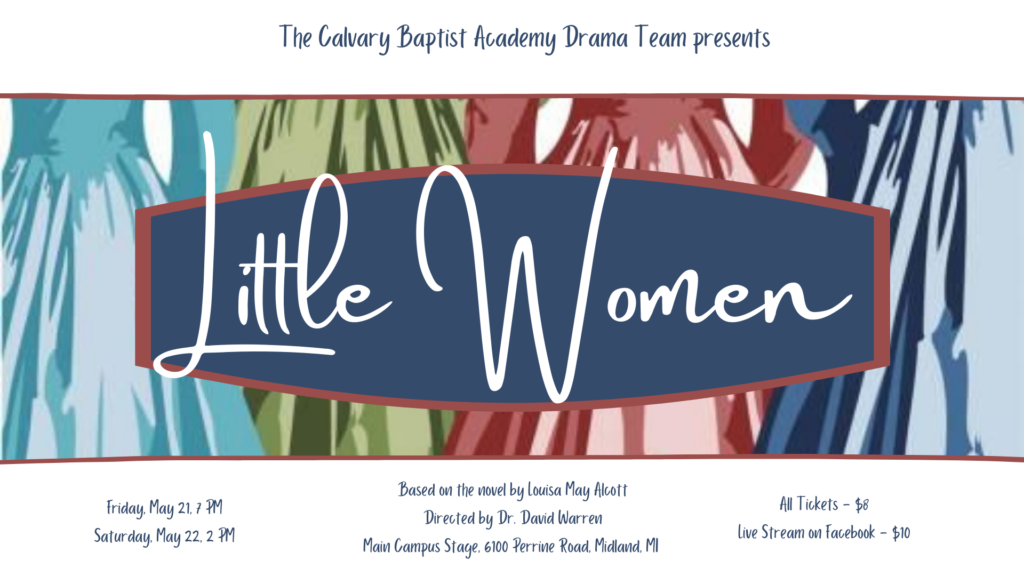 Based on Louisa May Alcott's American classic, this Civil War story of love and family stands the test of time.
Produced nationally and internationally, Little Women has been praised by critics for its ambition in adapting such a well-known story for the stage. This timeless, captivating story is brought to life in this glorious musical filled with personal discovery, heartache, hope and everlasting love.
Based on Louisa May Alcott's life, Little Women follows the adventures of sisters, Jo, Meg, Beth and Amy March. Little Women embodies the complete theatrical experience, guaranteeing a night filled with laughter, tears and a lifting of the spirit.
Performances limited to 150 in person attendees. Cast members each have 10 tickets for each performance to sell at $8 each. They are the ONLY place to purchase tickets to view the play in person. However, you can still watch the production LIVE! We will be streaming live on Facebook. The cost to view the live stream is $10 per device. That means your entire family and friends can watch with you for just $10.
The link to Friday's live stream is https://fb.me/e/2CEKVhi7V
The link to Saturday's live stream is https://fb.me/e/FtKmZjo3
You can also click on the images below. You can sign up today and you will receive a reminder notification when the event is about to start. You do not need to wait until the event begins to secure your spot.

Josephine "Jo" March
Margaret "Meg" March
Elizabeth "Beth" March
Amelia Curtis "Amy" March
Margaret "Marmee" March
Theodore "Laurie" Laurence
John Brooke
Aunt March
Professor Friedrich "Fritz" Bhaer
Hannah Mullet
Asst. Directors
Elaiyna Schwartzkopf
Kirsten Warren
Amelia Gee
Alectra Bork/Kelsey Bright
Madelynn Snyder
Nate Wiggins/Brendan Warren
Caleb Wallace
Ashley Wiggins
Evan Figeruoa
Emma Schmidt/Olivia SIngletary
Drew Dale & Caroline Houtman